CBD Chill Out
Full spectrum
1000 mgs. in 2 oz btl.
w/ Hibiscus & Wild Berry.
Hibiscus has been used for centuries to lower blood pressure, support heart
health, and alleviate upper respiratory troubles"

$99.95 - $49.95

Apothe-Cherry Concentrate
Certified Organic
Rich source of
anti-oxidants, plus.
Contains melatonin,
which may help
balance proper sleep.
May support healthy joints.
16 oz - $36.95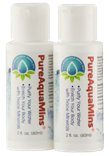 PureAquaMins
Helps remove up 99.9%
of Chlorine, fluoride, anaerobic bacteria, viruses, protozoa, pesticides, herbicides, fungicides, heavy metals,

2 oz -
2 bottles -
$49.95
O2 Drops
Activated Stabilized Oxygen proven to have a substantial and measurable impact on health and wellness.

2 ounce

$44.95
- $39.95