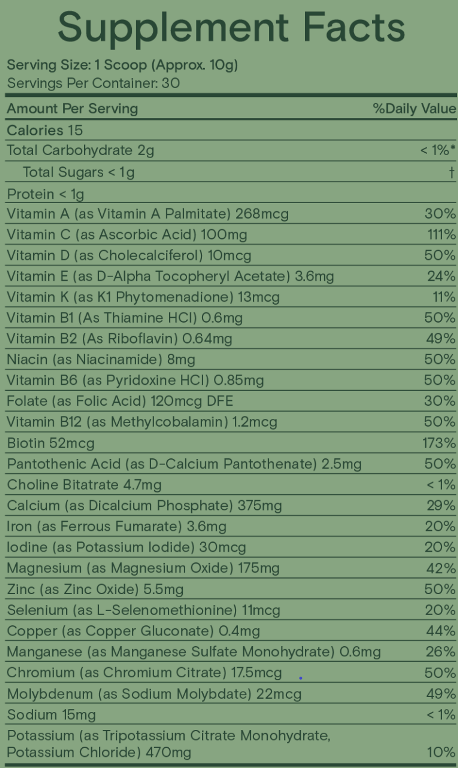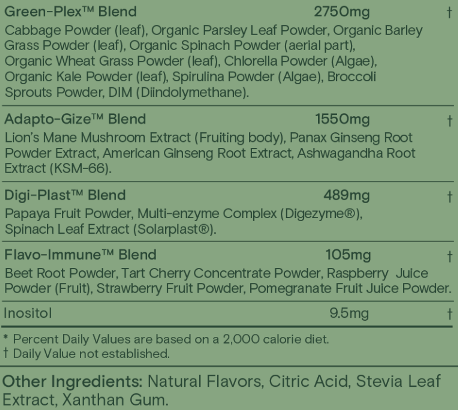 The finest ingredients, handled with care.
Green-Plex

Blend Cabbage Powder (leaf), Organic Parsley Leaf Powder, Organic Barley Grass Powder (leaf), Organic Spinach Powder (aerial part), Organic Wheat Grass Powder (leaf), Chlorella Powder (Algae), Organic Kale Powder (leaf), Spirulina Powder (Algae), Broccoli Sprouts Powder, DIM (Diindolymethane).
Adapto-Gize

Blend Lion's Mane Mushroom Extract (Fruiting body), Panax Ginseng Root Powder Extract, American Ginseng Root Extract, Ashwagandha Root Extract (KSM-66).
Digi-Plast

Blend Papaya Fruit Powder, Multi-enzyme Complex (Digezyme®), Spinach Leaf Extract (Solarplast®).
Flavo-Immune

Blend Beet Root Powder, Tart Cherry Concentrate Powder, Raspberry Juice Powder (Fruit), Strawberry Fruit Powder, Pomegranate Fruit Juice Powder.
---
Supercharged Greens
With more than 30 different phytonutrients, enzymes, vitamins and minerals.
Supplies antioxidants to enhance your body's vitality and immune functions with the power of Solarplast®.*
Enhances mental focus, memory, clarity, and mood.*
Yoli helps you feel what it's like to really live.
Experience a lifestyle aligned
with nature. Come to life.